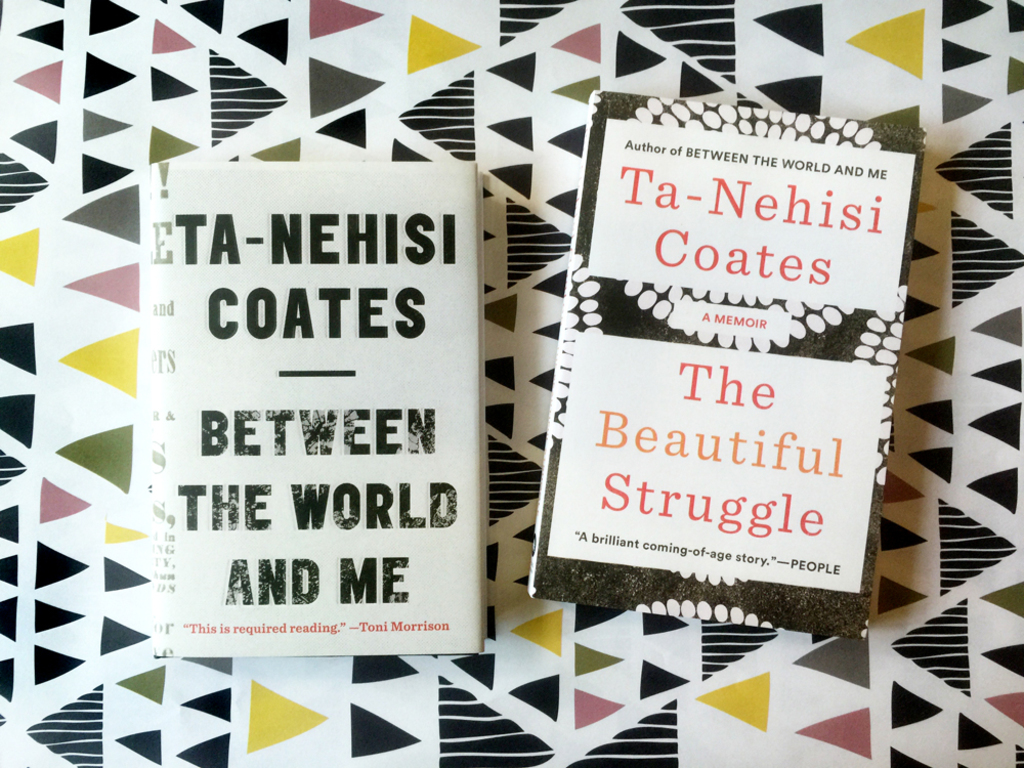 AGNES MARTIN AND BARBARIAN SURFERS
our reading list for August 2015
---
BETWEEN THE WORLD AND ME by Ta-Nehisi Coates
Hailed by Toni Morrison as "required reading," this book is at once a letter from a father to his son and an exploration of America's racial history. A crucial, necessary work by "the single best writer on the subject of race in the United States" (The New York Observer)

THE BEAUTIFUL STRUGGLE by Ta-Nehisi Coates
Ta-Nehisi Coates's first book was this autobiography, available in paperback. It focuses on his troubled upbringing in a crack-scarred neighbourhood, and on his father, a Vietnam vet and Black Panther. Harrowing and hopeful, it's steeped in a passion for hip-hop (the title comes from a speech by Martin Luther King that was quoted at different times by Mos Def and Talib Kweli).

A BEAUTIFUL QUESTION: FINDING NATURE'S DEEP DESIGN by Frank Wilczek
Does the universe embody beautiful ideas? This is what Wilczek, a Nobel laureate in physics, calls "the beautiful question." Though it doesn't offer a definitive answer, this probing book does guide readers through the history of the question, which has been at the heart of scientific pursuit from Pythagoras to Einstein and beyond.

OUDOLF HUMMELO: A JOURNEY THOUGH A PLANTMAN'S LIFE by Piet Hummelo
A gorgeous, intimate look at the personal garden of Hummelo, the Dutch landscape designer renowned for his designs on the High Line in New York City and at Lurie Garden at Chicago's Millennium Park.

COOKING FOR ARTISTS by Mina Stone
Chef Mina Stone has been the culinary artist behind private gallery dinners in the New York art world since 2006. This book serves up more than seventy of Stone's family-style recipes inspired by her Greek heritage and her love of fresh, seasonal food.

THEN AND NOW: TORONTO NIGHTLIFE HISTORY by Denise Benson
From award-winning music journalist and DJ Benson comes Then & Now: Toronto Nightlife History, a behind-the-scenes look at forty-eight of the city's most influential nightlife spaces, and the people that made them magic.

AGNES MARTIN: HER LIFE AND ART by Nancy Princenthal
Agnes Martin was a great artist. Austere and exacting, her work anticipated and helped to define Minimalism. Born in Canada, she carved out a solitary existence in the American Southwest. This is the first book to tell her life story from start to stop. Also available: Agnes Martin, a catalogue of the Martin retrospective currently on view at the Tate Modern.

AMONG THE TEN THOUSAND THINGS by Julia Pierpont
At the heart of this fantastic first novel is Kay, an awkward tween who watches as her parents' marriage goes to pieces. For comfort she turns to writing Seinfeld-inspired fan fiction; she even incorporates an erotic email that her father's former mistress sent to him. Full of unforeseen twists, this novel is as playful as it is poignant.

BRIEF HISTORY OF PORTABLE LITERATURE by Enrique Vila-Matas
An author (a version of Vila-Matas himself) presents a short "history" of a secret society, the Shandies, whose members are obsessed with the concept of "portable literature." The society -- which is entirely fanciful – includes Marcel Duchamp, Aleister Crowley, Witold Gombrowicz, Federico García Lorca, Man Ray, and Georgia O'Keefe. A book about loving books for the book lover.

THE MEURSAULT INVESTIGATION by Kamel Daoud
In Albert Camus's The Outsider, a man named Meursault murders an Arab on a beach. In this book, the brother of the murdered man tells us the story that Camus omitted, a story of colonialism and loss. In the process it stakes a place for itself as a classic of alienation and ennui.

TALK by Linda Rosenkrantz
It's the summer of 1965 and Emily, Vincent, and Marsha are at the beach. All three are ambitious and artistic; all are addicted to analyzing themselves and everyone around them. This book is the result of these conversations, recorded by Linda Rosenkrantz and transformed into a novel. First published in 1968, Talk is still fresh, lascivious, and too close for comfort.

RIDE AROUND SHINING by Chris Leslie-Hynan
This sharply observed novel tells the tale of a young white guy who becomes the chauffeur to a black basketball star. With clever nods to The Great Gatsby, it comically dissects the white world's fixation on black culture, particularly black athletic culture, something seen everywhere in everyday life but almost invisible in contemporary fiction.

THE CARTEL by Don Winslow
An epic portrait of the war on drugs, the war that the United States has been waging for decades. Art Keller is a federal agent who has been embroiled in a blood feud against Adán Barrera, the head of El Federación, the world's most powerful cartel, since both men were young. Keller puts Barrera behind bars, but at a punitive cost – he loses the beliefs he cherishes, the life he wants to lead. A must-read for fans of The Godfather and James Ellroy's hyper-violent novels.

GREENWICH LETTERPRESS ENAMEL PINS
They are pretty and fun and there are bikes and owls other things too. This one is ramen.

BARBARIAN DAYS: A SURFING LIFE by William Finnegan
The author, now sixty-some years old, looks back on a life devoted to what he loved more than anything else: surfing. Imagine On the Road set on the world's seas – this book is a memoir, a travel guide, a meditation, and, above all, a love letter. Some critics are already calling it a classic, a paean to sport that ranks alongside Mailer's The Fight or Bissinger's Friday Night Lights.
---